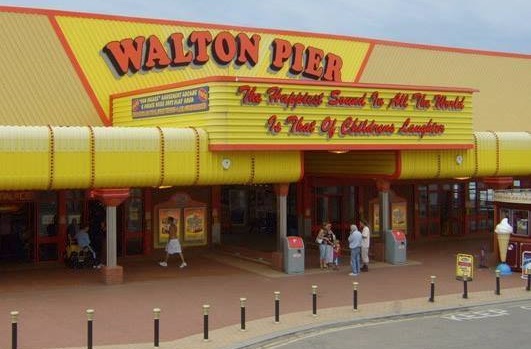 News reaches us of one of our historical centres closing. The official website however reads…Our Bowling lanes are now closed for refurbishment. Maybe the following story is not the final one??
The Bowl over the sea is no more.
by Steve Walker
Walton Pier Bowl has just been completely demolished by the owners of Walton Pier, which juts out into the North Sea from Walton on the Naze.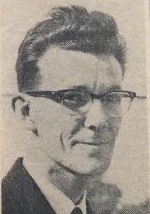 The Bowl was opened in 1964 with Brunswick gear and pins, and managed by the iconic Keith Hale who created a legendary Pro Shop and helped set up leagues and a Saturday morning junior club overseen by local lad Chris Winter. The Junior Club was very popular with local children in a town with few activities and resources for young people in the Winter.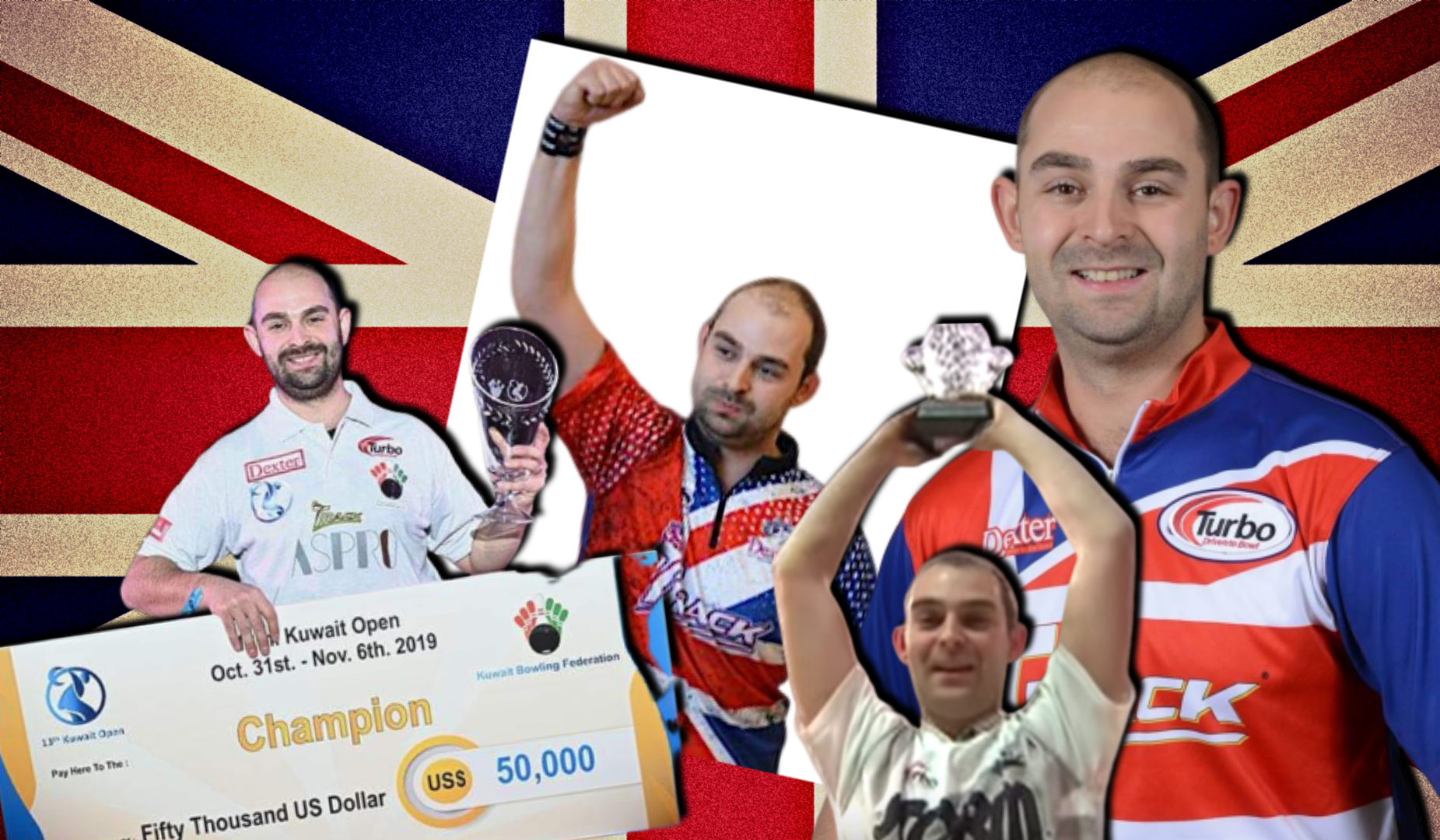 Despite having only nine lanes, making it one of the smallest bowls in the country, it has been responsible for producing top international players such as England representative Paul Scottow and current International superstar Dominic Barrett.
In its 1970's heyday the Bowl was hosting BTBA regional matches, an International tournament with teams from all over the Globe telephoning their results through to the Bowl, and sponsoring the notorious pirate radio station Radio Caroline which broadcast from a boat opposite the Bowl anchored in International waters.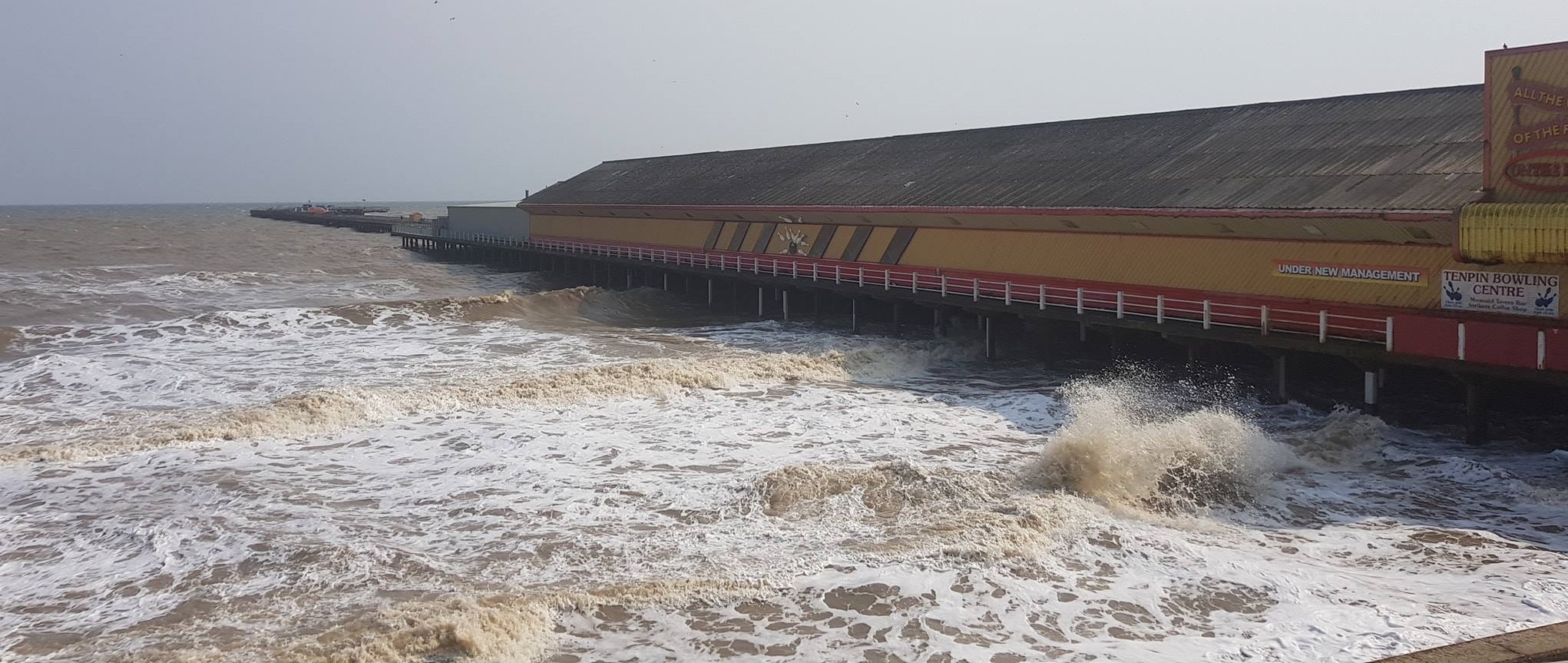 Leagues ran on every night of the week and sometimes had two leagues on the same night. A cash league was created on a Friday evening which attracted teams from across Eastern England. These were usually sponsored by local businesses that provided shirt livery in their brands. A team of American service personnel came over from Lakenheath USA airbase in Suffolk, and a team from Harlow in Essex which included another England Legend, Dave Pond.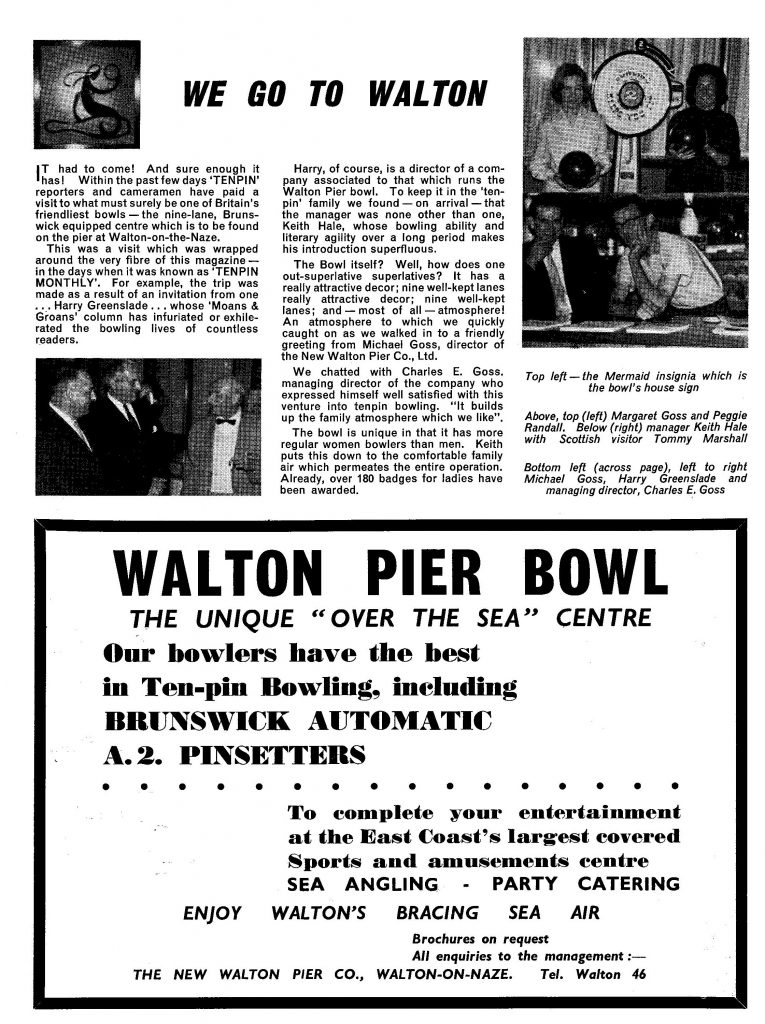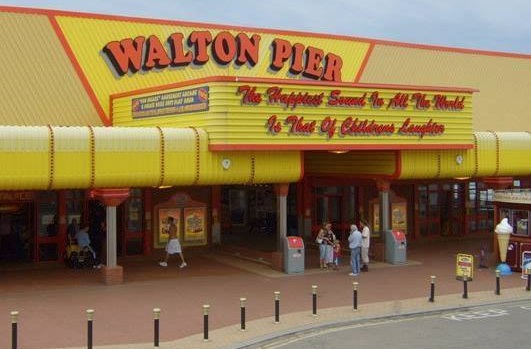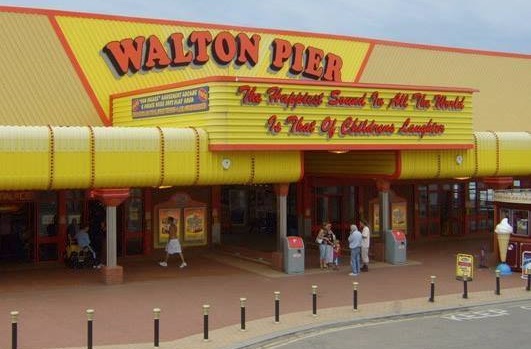 At the time it was created the Pier was owned by the Goss family and it was Michael Goss who saw the potential for joining the tide of enthusiasm for Ten Pin Bowling which really took off in the 1960's. The Bowl was situated at the end of the amusement arcades and children's rides which attracted huge numbers in the late 1960's and early 70's. This was in hindsight the beginning of the end of typical seaside holidays in the UK as overseas holidays grew in popularity due to cheaper air travel. Walton Pier teams participated in Regional, and National tournaments up and down the country. Juniors such as myself graduated into the Adult leagues where we held our own against much older opposition. I was Eastern Region qualifier of a Coca Cola sponsored under 21 National tournament in 1970 where we played the televised finals at the Ambassador lanes in Wolverhampton.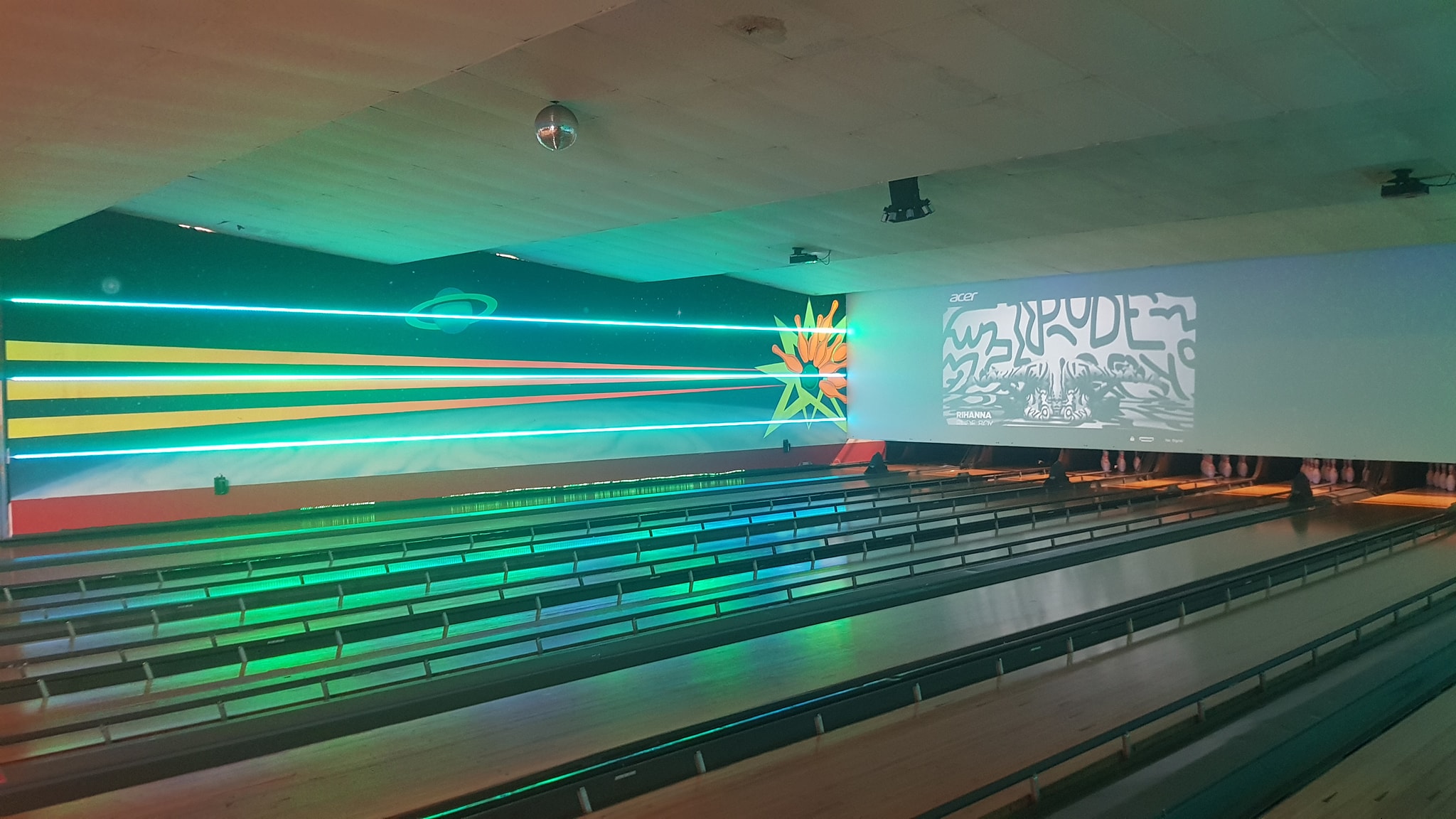 The Bowl had a family atmosphere with a Bar, Coffee shop serving burgers and cola, and a busy pro-shop where players could buy the latest balls and have precision finger holes drilled expertly by manager Chris Winter. The lanes were kept in immaculate condition helped by their traditional maple wood construction. After the much-hyped mods versus rockers seaside shenanigans in the late 1960's the management introduced a no jeans, leather jackets or long hair ban which cramped the style of those of us trying to keep on trend. These rules were inevitably relaxed as time moved on and non league players were needed to maintain financial viability.
For the past twenty years the Bowl had slowly declined in popularity, with fewer leagues and fewer non league visitors. A lack of investment in lane technology and equipment meant machine breakdowns became more frequent and lane closures could last weeks. Various managements came and went, and despite a recent costly refurbishment, a decision was taken to stop all league Bowling. This upset many veterans some of whom had been bowling happily and regularly for over 50 years. Not long after, the new owner closed the amusement arcades and rides, and the Bowl was demolished in September 2021.
I'm planning to write a book about the Bowl as a small run charity fundraiser. If any bowlers with memories, anecdotes, photos etc, of Walton Bowl, please to send them to me via email.
swalk54@btinternet.com
Steve Walker