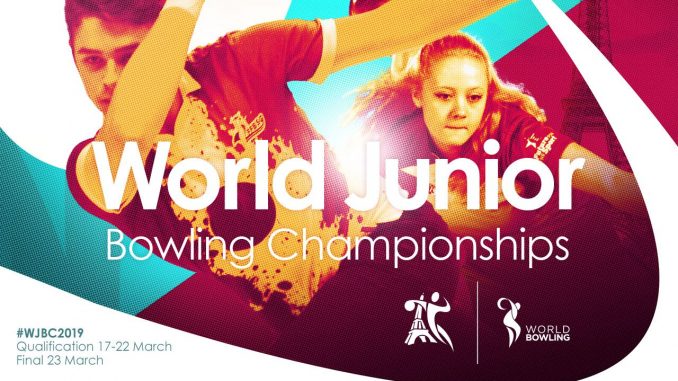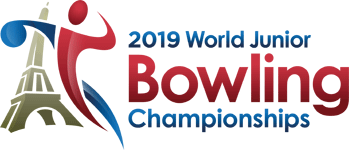 This year's World Bowling Junior Championship is hosted by World Bowling, the Tenpin Bowling Association of France (FFBSQ), and Plaza Saint Maximin.
This championship event takes place at Plaza Saint Maximin, near Paris, France from March 17 to March 24, 2019. Only players born on January 1, 2001 – December 31, 2005 are eligible to participate in the 2019 World Junior Championships. Each member federation is entitled to select a maximum of 4 athletes, 2 boys and 2 girls.
Live Streaming
Reports (International)
Thirty five countries down to compete. One thing that is true of youth players in 2019 is they are fearless, focused and energetic. To name favorites would be almost impossible but strong bowling nations at adult level are looking at these championships for their future bowlers and emerging bowling nations hold hope with their new generation of players.
If excitement was what the organizers were thinking with this event they could be happy with this showcase of new talent. Another thing that is true is that many of our top names in bowling came through junior programs and won World championships. Could we witness the next big things?
Singles – Russia and Korea set the pace
Play got underway on Monday with the singles, Leading the girls after Singles A was Russian Victoria Kashirskaya who opened with a 277 on the World scoring format ending with 1322. Second was England's Isabel Allen with 1332 with Australia's Sophie Martin in third with 1316. For the boys Korea's Geun Ji made the early running with a massive 1516 and opening with 277 and 278 and ending the block with 277. Second was Hugo Bonnefoy from France with 1396 and third to Korea's Donghyuk Park with 1393 and tied with Ukraine's Mykola Sielin.
Singles – Singapore and Finland lead field into the semi finals

Play continued for the singles on Tuesday with Block B players and it was all change at the top of the girls event as Singapore, Finland and The Philippines all grabbed the finals places. Leading the four into the semi finals was Singapore's Arianne Tay with 1407 followed by the finnish pair of Mila Nevalainen (1389) and Peppi Konsteri (1387) with Filipino Grace Gella in fourth with 1374.
Korea's Geun Ji's 1516 from the first block was passed as Finland's Pyry Pulharinen fired 1521 to head the boys into the semi finals. with Korean Ji in second the last two spots were taken by Mexico's Maximiliano Lopez with 1459 and Finland sending all four of their countries players into the finals in fourth with 1398.
Singles – Finals
The Singles finals were held later on Tuesday and in the boys section it was Korea vs Mexico in one semi final and an all Finland matchup in the other semi. Mexican Maximiliano could only watch in awe and frustration a his 221 was surpassed by Korean Geun Ji rolling a perfect 300 game on the World Scoring format so a 10 strike perfecto. In the Finland final it was Jessie Ahokas outpointing team mate Pyry Puharinen 257-214.
Girls semi finals and Singapore vs The Philippines and yet again Finland vs Finland!!. Singapores's Arianne Tay took out Filipino Grace Gella in a close fought 214-188 and in a tense high scoring affair it was Peppi Konstreri just edging Mila Nevalainen 243-235.
Singapore's Arianne Tay went on to defeat Finland's Peppi Konstreri in a comfortable 230-190 win and claimed the Gold as Korea made it two silvers for Finland as Geun Ji of Korea just shaded Jesse Ahokas 235-224.
Doubles  – USA and Korea overnight leaders

Doubles was next up on the schedule on Tuesday and the first of two doubles squads. Leading overnight the USA's Solomon Salama (1374) and Anthony Neuer (1414) with 2788. Second was Korea's Donghyuk Park (1359) and Geun Ji (1399) with 2758. Chinese Taipei and Hong Kong making up the early top four at the close of play.
The Korean pair of Soree Hong (1455) and Youngseon Jeong (1361) for 2816 found themselves a 177pin lead over the USA's Kamerin Peters (1327) and Mabel Cummins (1312) in second with 2639 as England placed third and Russia fourth.
Doubles – Finland and Korea lead field into finals
The second squad of Doubles started Wednesday morning and in the girls event it was just the German pair of Franzisa Czech (1355) and Natalie Groll (1349) hit 2704 to slot into second overall and a place in the finals with Korea, USA and England. For the boys Finland's Pyry Puharinen (1394) and Jesse Ahokas (1463) blasted their way to the top for the finals with 2857 and joined by Germany's Paul-Sulivan Purps (1375) and Patrick Weichert (1422) from the second squad and USA and Korea from the first squad.
Semi finals time and the Korean girls made short work of it crushing England 529-359 with Soree Hong on 265 and Youngseon Jeong with 264. USA advanced as Kamerin Peters (203) ad Mabel Cummins (240) hit 443 to Germany's 332.
The Korean boys also advanced to the final with a win over Finland thanks to 278 from Ji and 220 from Park. 498-451 the final score. The USA's Solomon Salama (264) and Anthony Neuer (185) made it another USA vs Korea final as they defeated Germany 449-398.
Team (Mixed)
Block one for the mixed team of four had no real shock with Korea leading the way with a massive 2860 and highlights from Donghyuk Park with 799 ad Guen Ji with 722. Singapore place second with 2734 and Eugene Yeo top scorer with 725. Finland placed third with 2720 and a solid 731 from Jesse Ahokas and finally Mexico made up the top four with 2701 and a 748 from Maximiliano Lopez.
Block 2 and Korea lead the teams into the finals with 5619 and Donghyuk Park top scorer with 1537. Singapore placed second with Mexico and Finland making up the top four to advance.
Team Finals
In the semi finals we had Korea vs Finland and Singapore vs Mexico. Both matches were over inside two games as Mexico defeated Singapore 2-0 with both games close. Korea went past Finland 2-0 in another close match. Finland unlucky to lose first game by just 3 pins 204-201 and the second game by 22 pins 245-223.
All Events
Taking the top spot by just 56 pins was Korea's Geun Ji with 4387 with Finland's Pyry Puharinen in second with 4331 and Korea's Donghyuk Park third with 4289. For the girls it was top spot again for Korea with Soree Hong on 4172. Second and third going to Finland's Mila Nevalainen (4013) and Peppi Konsteri (3987).
Masters
Round one boys and wins for Guatemala, Mexico, Chinese Taipei, Lithuania, England, USA, Singapore and Hong Kong and we said goodbye to France Philippines, Russia, Australia, Singapore, Kuwait and Ukraine. For the Girls there were wins for England, Colombia, Czech Republic, Russia, Philippines and USA as we said farewell to Germany, Russia, France, Mexico, Romania, USA and Australia.
Finals step two and wins in the girls section for Korea x2 , Guatamala, Singapore, USA, Philippines, Russia and Finland and in the boys advancing were Germany, Mexico, Singapore, Lithuainia, Hong Kong, England, Finland and the USA.
Onto Step 3 and into the Semi finals were wins for Lithuainia, Korea, Finland and Mexico and for the girls USA,  Philippines and two Koreans.
Semi finals saw Korea's Soree Hong bet Filipino Norel Nuevo in the first girls semi 2-0 and Youngeon Jeong making it an all Korea final by defeating American Mabel Cummins 2-1. For the boys Korean Geun Ji was in blistering form rolling 289 and 287 as he destroyed Lithuanian Narusis 2-0. Going for the title in the other semi was Finland's Pyry Puharien 2-0 against Mexico's Ordaz with games of 268 and 253.
Reports (Home Nations)
England and Scotland hold our home nation hopes in this new addition to the Junior arena of bowling. England have a group of exciting young players in two-hander Alex McCarthy, Leftie Austin Taylor and right handers Isabel Allen and Rhian Dobinson.
For Scotland the hopes of a nation rest with left hander Chris Thomson-Nairne.
| | |
| --- | --- |
| | |
| Austin, Alex, Rhian and Isabel ready up for the championships | Chris fly's the flag for Scotland with coach Calvin Murrey |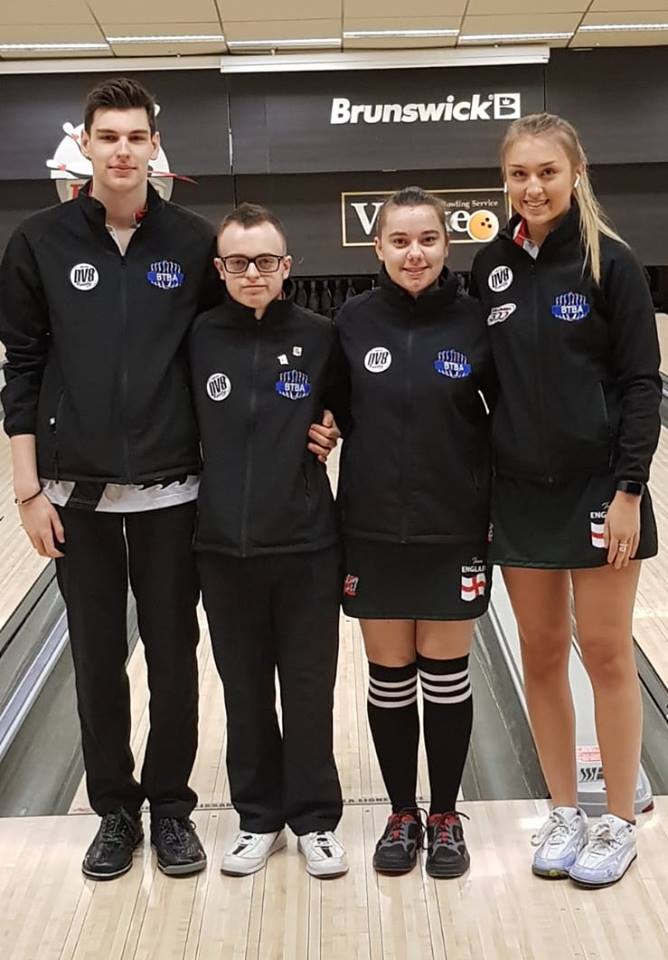 Singles
229,264,233,231,193,231 for 1381 is a score many adult players would be more than happy with in a major championships. Ok, so it is World Scoring but it is still all about keeping the highest pace possible. In a high scoring boys A squad of the singles that score for England's Austin Taylor placed him in 5th and only 12 pins off the top four. Alex McCarthy in 20th with 1256 and opening with 233 and ending with 220 in a mixed block and positives to be taken away from games of 253 and 243 in the middle.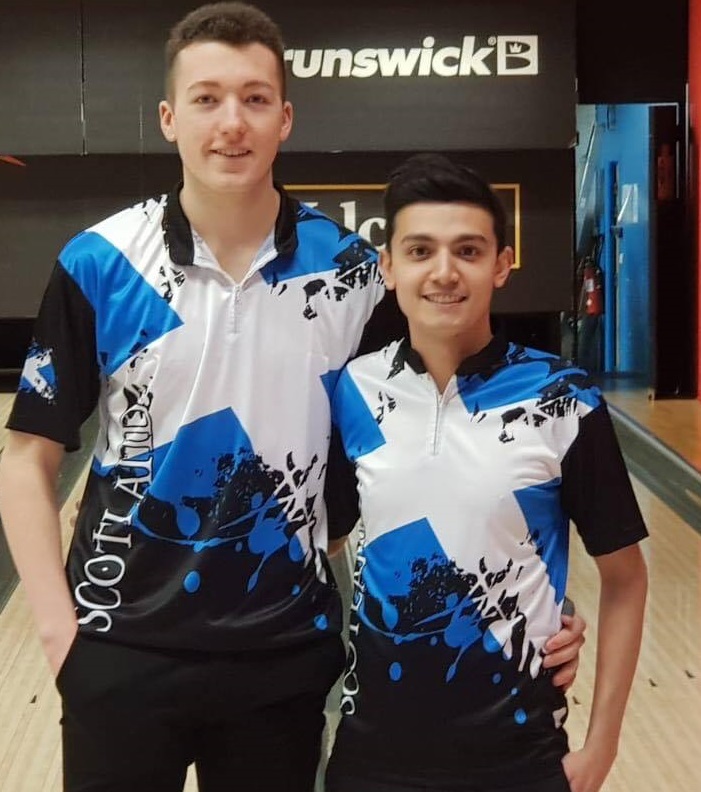 A great day for the girls too as Isabel Allen started with 253 and 232 before adding 200 and bouncing back with 231 and 221 before tailing off with 195 for a solid 1332 and second place with a great chance of making the semi finals. In 8th with 1230 Rhian Dobinson hit four 200+ games in a promising set in her first major championships.
Tuesday saw Scotsman Chris Thomson-Nairne take to the French lanes and tough block for the tall lefthander as he finished in 27th in the block and 52nd over with 1164.
As both squad scores completed the singles qualifying England's Isabel Allen dropped to 6th place and just 75 pins from the finals. Rhian Dobinson placed 18th overall with England boys Austin Taylor (10th) and Alex McCarthy 43rd.
Doubles
England had another good day in the championships with all four players improving as the championships progress. For the boys another 1300 for Austin Taylor with 1310 and improved 1332 from Alex McCarthy placed them 6th overnight. For the girls, another nail biting evening for Rhian Dobinson who found her rhythm with 1287 and Isabel Allen with a steady 1333 placed them 3rd overnight and another chance of a finals place.
For Scotland, their sole player obviously did not have a Scottish partner but it did not stop Chris Thomson-Nairne shooting a fine 1356 including a high of 262.
At the end of the two squads England boys ended in 11th but all eyes were on the girls as they held 4th place and into the finals.
Sadly the finals adventure was short lived as Korea dominated the match winning 529-359. Rhian Dobinson for England with 192 and a 167 from Isabel Allen. Bronze medal though is an amazing achievement and well deserved by the young England duo.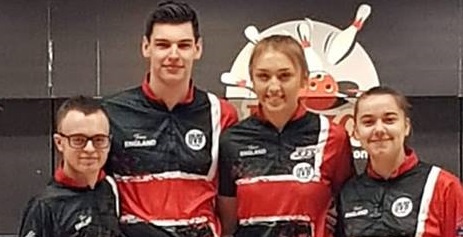 Team (Mixed)
A story of close but not close enough for England in the mixed team event. 636 from Isabel Allen, 547 from Rhian Dobinson, Alex McCarthy with 622 and Austin Taylor tops with 667 and a team score of 2472 for 13th place with a squad to go.
For Scotland Chris Thomson-Nairne was good again shooting 668 in the make up team.
Block two in the team event saw England in 10th with 2590 and highs from Alex McCarthy with 701 and Austin Taylor with 700 as Rhian hit 600 and Isabel 589 for an overall team score of 5062 and 11th.
675 this time for Scotland's Chris Thomson-Nairne for 1343 and 3863 for the championships placing him 35th.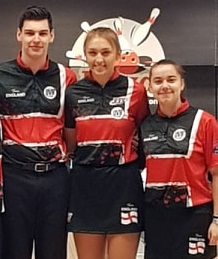 All Events
Joy for England as they got three out of four players into the masters. In the boys Austin Taylor placed 18th and for the girls Isabel Allen placed 8th and Rhian Dobinson 23rd. Alex McCarthy placing 27th and missing cut by just 45 pins. Scotland's Chris Thomson-Nairne was in 35th.
Masters
Masters round 1 saw Rhian Dobinson have a 278 thrown at her in the first game of the masters against American Kamerin Peters yet fought back to take the second game 195-181 and then the decider in a tense finish 242-232 for a 2-1 win.
Austin Taylor the last Englishman in the boys event took on The Philippines Patrick Nuqui in the first round and took the first game 242-201. A close second games saw Austin advance winning 189-187 and 2-0.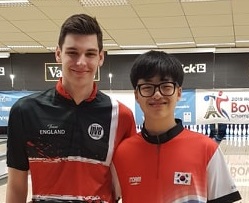 Onto Masters step two for the boys, Austin pulled off what could be one of the most important wins when he defeated Korean Donghyuk Park 2-0. The Korean had been on fire during the championships and make no mistake, 245's back to back against one of the best gave hope to a nation of further wins.
Those wins sadly did not come though as both England girls went out of the championships in the step 2 round.  Agony for Isabel Allen loosing first game by just 1 pin 210-209 but fighting back to take game two 243-220. Korean Yeongseon Jeong was just too strong in the end taking the last game 255-225. Rhian Dobinson also going down to a Korean as Soree Hong defeated her 2-0 despite a brave battle in game two which Hong took 246-237.
Last boy standing was Austin Taylor for England and up against the mighty Geun Ji from Korea who had been arguably one of the best all week. 279 and 264 for the Korean did not give much room for Austin but 212 and 233 in reply was a great effort considering the form of his opponent.
Results