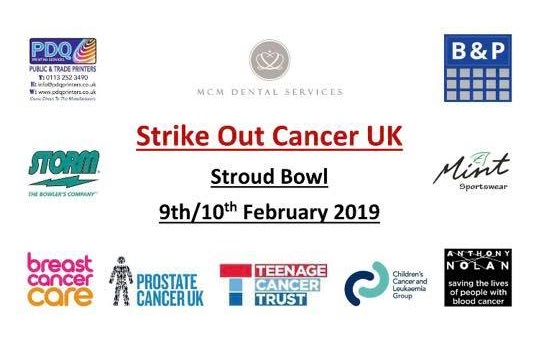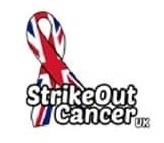 The 1st Strike out Cancer UK tournament was held last weekend, raising money for 5 fantastic cancer charities. Two UK Hall of Famers were to win as Jo Cundy and Paul Moor shot 1816 scratch and 1896 with hcp. Second were Hayley Russell and Pete Stevenson with 1840 scratch and 1864 with Hcp. The pair also collected potential national records. Stevenson fired a third game 300 as Russell added 279 for mixed doubles score of 579 and believed to be the highest mixed game record. the duo added a three game record of 1433

Speaking on Social media later Hayley said –
Amazing day at the Strike out Cancer UK doubles event! Incredible event by Cherise Moor and Katie Tagg you ladies did an incredible job. Over £9000 raised through lots of different things. We all know someone who has been affected! Unfortunately, 10 months ago I lost my dad to cancer 💙 with another family battle in the end of last year 💜 so a great event for a great cause ❤️
On the bowling side, with my incredible partner in crime Peter Stevenson, we broke the 1 and 3 game record for mixed doubles with a 579 and 1433. We do like to break a record when bowling together! My super partner had a 300 whilst I backed him up slightly with 279 😊 we finished 2nd in the handicap event (even though I had no handicap 😂) and I'm so incredibly proud. I also managed to win high game, high series and even for 2nd in the scratch pot! Although I'm no longer part of the family, I'm incredibly grateful for my Motiv equipment which still puts me in the position to challenge for a win! #trident #Motivnation
A well run, supported came to an end with with a large amount of cash going to some very worthy causes. Organizer Cherise Moor also took to social media later to state. –
What a incredible 10 months of hard work paid off! This weekend has been better than we could have imagined, we raised a significant amount for the 5 UK Cancer Charities.
Our total fundraising came to £6961.94 plus Alex McCarthys headshave raising £2452.70. Giving us a total of £9414.64!! A massive thank you to our sponsors, B&P Fabrications, Hepworth Heathcare Ltd, Storm Bowling, PDQ Printing, Mint Sportswear and our wonderful hosts Stroud Bowl.
Katie Tagg it has been my absolute privilege to host this event with you, we make a great team. Thank-you for supporting me and helping with everything. I couldn't have done it without you and I wouldn't have wanted to do it without you either. Xx A huge Thankyou to everyone offering help over the weekend, including our great team of Natalie, Dave and Paul. Plus anyone offering to help us. Cancer hits so many families and for us all it means something deep. It has been an absolute privilege to host this event and raise such a huge amount! Now time to go home and sleep!